About Us
Premise
In 1946, a new major league forms as a rival/companion to the existing major league. The new league breaks the 70-year-old color barrier; the established circuit, bowing to pressure, soon follows suit. After some mildly antagonistic jockeying the two leagues are operating in cooperation with one another, with a common draft and an interleague postseason championship.
So, two leagues; one established, and the other brand new. Both leagues are fictional leagues with fictional teams and players, but they draw some parallels from MLB history. It may be viewed as an alternate history "inspired" by real-life baseball, with further "inspiration" from another, less likely source…
Historical Inspiration
A quasi-parallel from professional football
From 1946-1949 the National Football League had a challenger called the All-America Football Conference (AAFC). Conceived by its founders as a "companion" league to the NFL (an "American League" to the NFL's "National League"), the AAFC initiated some significant innovations, most notably 1) the rejection of the unwritten rule prohibiting African-Americans from playing and 2) coast-to-coast placement of teams, made feasible by the availability of air travel.
The league was moderately successful. AAFC teams in New York and Los Angeles actually outdrew their NFL competition in those cities, and some teams in cities with no NFL representative, like Buffalo, Cleveland, and San Francisco also drew well. Other teams struggled, however, and as competition for talent caused player salaries to escalate in both leagues, it became difficult even for the most successful teams to flourish financially.
Both leagues sought an end to the inter-league conflict, and the final agreement was for the AAFC to disband but for three of its teams—Cleveland, San Francisco, and Baltimore—to join a newly-realigned NFL.
Meanwhile, in the summertime…
Major League Baseball was still far more popular than professional football in 1946, but MLB, presented with opportunities to move forward, was dragging its feet. African-Americans were barred from playing. The teams were concentrated in the East, leaving lucrative markets west of the Mississippi untapped. Most teams had to compete with another team in the same city, some in markets that had for years struggled to adequately support more than one team. Baseball was ready to realign and expand. It began to do so, but at a snail's pace; relocations didn't start until 1952, and there was no expansion until 1961. Both could easily have started earlier and accelerated faster.
"Our" History
NBL—The "Senior Circuit"
The Commissioner created a fictional major league in OOTP, the "National Baseball League". The structure was loosely on the historical Major League Baseball, slightly simplified. I began simming in 1876, the same year that the real National League started. The league began in the same cities that made up the original membership of the National League but it went through different (and fewer) changes.
The NBL achieved stability in the 1890's, after which all of its franchises stayed put for decades. By 1893 it was a 12-team league with two divisions and an annual post-season championship. That year, and for many years hence, the league consisted of:
| | |
| --- | --- |
| Western Division | Eastern Division |
| Chicago Traders | Baltimore Lords |
| Cincinnati Packers | Boston Terriers |
| Cleveland Bobcats | Brooklyn Bluebirds |
| Detroit Wolverines | Buffalo Beavers |
| Pittsburgh Industrials | New York Knickerbockers |
| St. Louis Explorers | Philadelphia Quakers |
This league's structure was somewhat more akin to the NFL of the 1930's/1940's/1950's than to the Major League Baseball of the first half of the 20th Century. There was one league instead of two, with fewer teams and no two teams competing in the same city (or at least no two teams starting in the same city; Brooklyn was not part of New York City before 1898).
AABC—The "Junior Circuit"
I simmed that league up through the 1945 season, and then a new competitor emerged: the All-America Baseball Conference. This eight-team league placed teams in six markets that weren't served by the established major league, plus a team in New York and a team in Chicago (because "major leagues" rarely ignore New York and Chicago) .The new league consists of:
| | |
| --- | --- |
| Western Division | Eastern Division |
| Houston Drillers | Chicago Hawks |
| Los Angeles Pobladores | Montreal Habitants |
| San Francisco Seagulls | New York Empires |
| Seattle Emeralds | Toronto Hurons |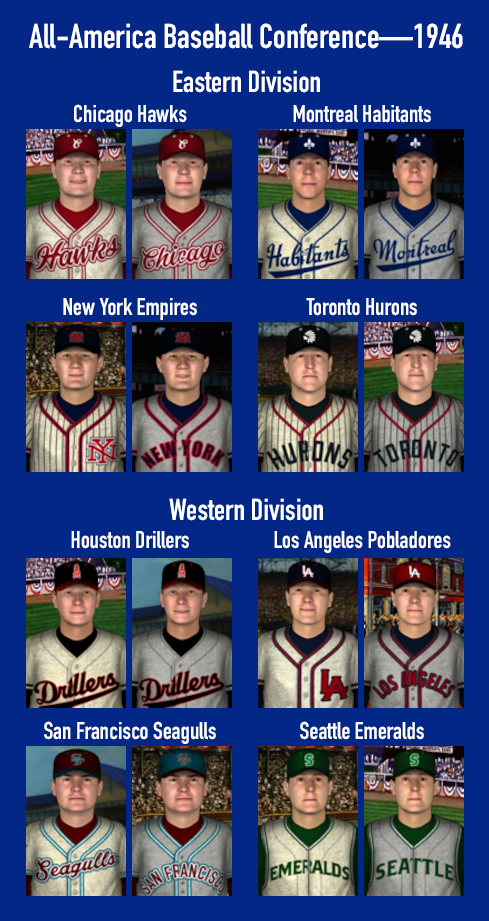 The Future
Expansion/realignment: The league will undergo expansions either when there is demand, or when it seems like "it's time". The ultimate goal is for there to be an equal number of teams in each league. Realignment (teams switching leagues/divisions) may occur. Relocation is a possibility as well.
When the league expands, new GMs will be able to choose their team from the following list:
Washington Federals/Legislators/Americans
Milwaukee Badgers/Dairymen/Farmers
Minneapolis-St. Paul Gophers/Monarchs/Wolves
Kansas City Bulls/Steers/Mules
Dallas Stallions/Longhorns/Wranglers
Subsequent expansions may add the following:
New Orleans Privateers/Cajuns/Jazzmen
Denver Burros/Zephyrs/Bighorns
Indianapolis Volunteers/Speedsters/Hoosiers
Interested in taking a team, or just want to ask a question or comment on something? E-mail me!